The rear corner and centre sensors monitor obstacles behind your vehicle, and the beeper and audio/information screen let you know the approximate distance between your vehicle and the obstacle.
Detail

Even when the system is on, always confirm if there is no obstacle near your vehicle before parking.




The system may not work properly when:

The sensors are covered with snow, ice mud or dirt.

The vehicle is on uneven surface, such as grass, bumps, or a hill.

The vehicle has been out in hot or cold weather.

The system is affected by devices that emit ultrasonic waves.

Driving in bad weather.




The system may not sense:

Thin or low objects.

Sonic-absorptive materials, such as snow, cotton, or sponge.

Objects directly under the bumper.




Do not put any accessories on or around the sensors.
The sensor location and range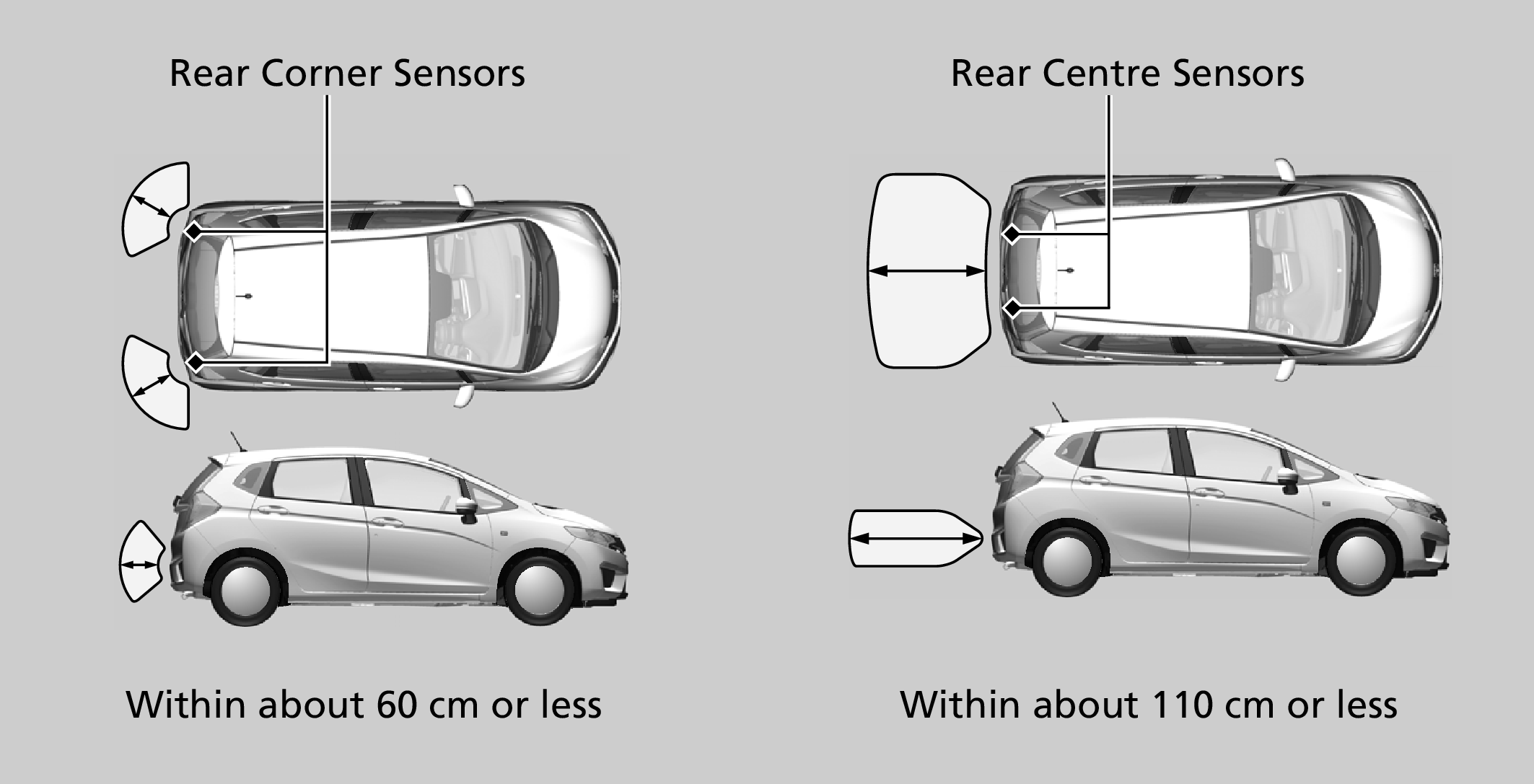 Backup sensor system on and off
With the ignition switch in ON II*1, press the backup sensor system button to turn on or off the system. The indicator in the button comes on when the system is on.

The rear centre and corner sensors start to detect an obstacle when the shift lever is in R, and the vehicle speed is less than 8 km/h.

Manual transmission models

You also need to release the parking brake.
Detail

The backup sensor system is in the previously selected on or off setting each time you start the engine.
*1 : Models with the keyless access system have an ENGINE START/STOP button instead of an ignition switch.
When the distance between your vehicle and obstacles behind becomes shorter
Length of the intermittent beep

Distance between the Bumper and Obstacle

Indicator*

Multi-information display*

Corner Sensors

Centre Sensors

Moderate

—

About 110-60 cm

Blinks*1

Models with multi-view rear camera

Short

About 60-45 cm

About 60-45 cm

Blinks

Very short

About 45-35 cm

About 45-35 cm

Continuous

About 35 cm or less

About 35 cm or less

Blinks
*1 : At this stage, only the centre sensors detect obstacles.
Rearview screen with backup sensor*
When the distance between your vehicle and obstacle behind becomes shorter, the audio/information screen displays the backup sensor indicators.
* Not available on all models