Models with display audio system
Some of your smartphone apps can be displayed and operated on the audio/information screen when the phone is connected to the audio system. You can connect your phone using a cable.
To use smartphone connection, you need to first pair your smartphone to the audio system via Bluetooth®.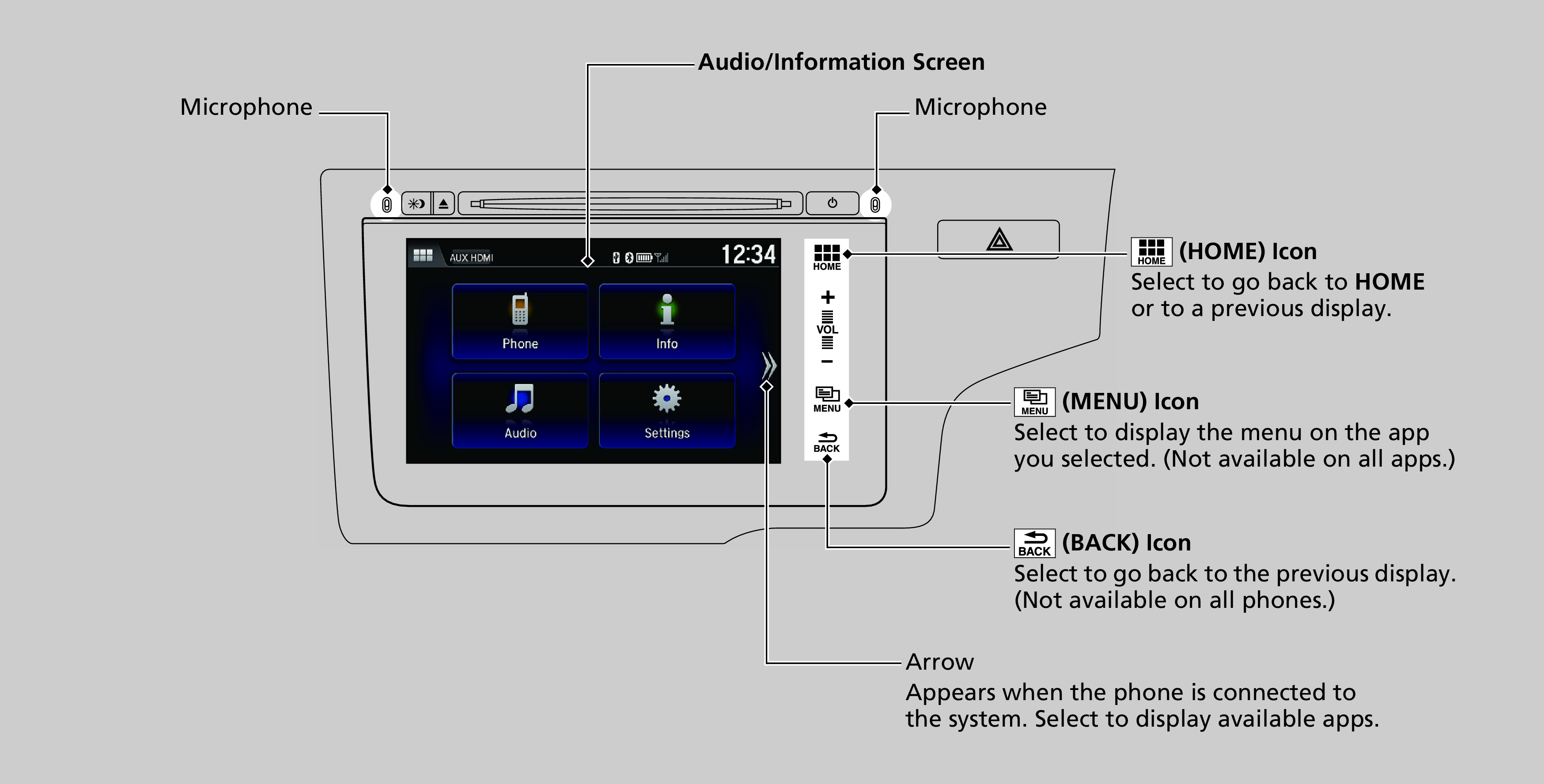 Detail

Park in a safe place before connecting your phone and while operating the displayed apps.




Not all phones are compatible with the system. The system does not display all the available apps on smartphone, and some apps need to be preinstalled. Ask a dealer for details.




You need to switch the Bluetooth connection to your smartphone if another electronic device is connected.





The following may vary by phone type:

Connection methods.

How to connect a smartphone to the system.

Apps that can be operated on the screen.

Display response time/update time

We do not support every app operation on the audio system.

Ask the app provider for any questions on the app's features.




Do not get drawn into the display while operating a vehicle.
Connecting Your iPhone
Connect your phone to the display audio via Bluetooth®.
Plug in the digital AV adapter to the HDMITM jack.

Connect the digital AV adapter to your iPhone.

Wait until an arrow appears on the home screen.

Select the arrow to display the available smartphone apps on the audio/information screen.

You may need to operate from the phone.

Select an app you want to operate from the audio/information screen.

To go back to the previous screen, select HOME.
Detail

Make sure to plug in the digital AV adapter to the HDMITM jack first. If not, smartphone connection may not work properly.




To recharge your phone, connect it to the USB jack, too.




Contact a dealer for the digital AV adapter or HDMITM cable purchasing information.